Although we're sure your spit-roasted pig is lovely, we would like to order chicken instead. Do you do other meats?
We do. We do beef, lamb, chicken, turkey and beef burgers, all made using the finest ingredients.
We want to hire one of your hog roasting machines, but have never used one before? Will you be able to show us how?
Although our machines are very easy to use, if you're having difficulty with operating them, then feel free to call us and we'll give you step-by-step instructions on how to cook using it.
Some people at our party don't eat meat. Do you provide a vegetarian option?
We do. Although we're primarily involved in spit-roasting pigs, on most of our menus, we have a vegetarian option on our menu, which will be cooked with the same craft and expertise that we use when spit-roasting meat.
There's going to be about a hundred of us at a community event, and we need to order more food. Can we order extra from you?
You can. It's possible to order more food on top of what you've already ordered from one of our menus, and all you have to do is tell us what you need before your event, and we'll sort it out.
We live just over the border in the Republic of Ireland, and can only pay you in Euros. Do you accept payment in Euros?
We do. We have done a lot of jobs in counties such as Donegal and Monaghan, as well as further south in Mayo and Waterford.
We know that ordering outside catering can be a bit stressful, as you don't know what to expect. Luckily, we've got everything covered, from the route to your event to the cooking itself. We do our very best to ensure that the catering side of your function runs as smoothly as possible. We arrive at the venue on time, whether it's in the centre of a county town such as Letterkenny or if it's on the outskirts of a village that lies several miles away from a main road. As soon as you tell us where your party, wedding or corporate event is, we plan our route accordingly. We arrive between six and eight hours before the food is scheduled to be ready.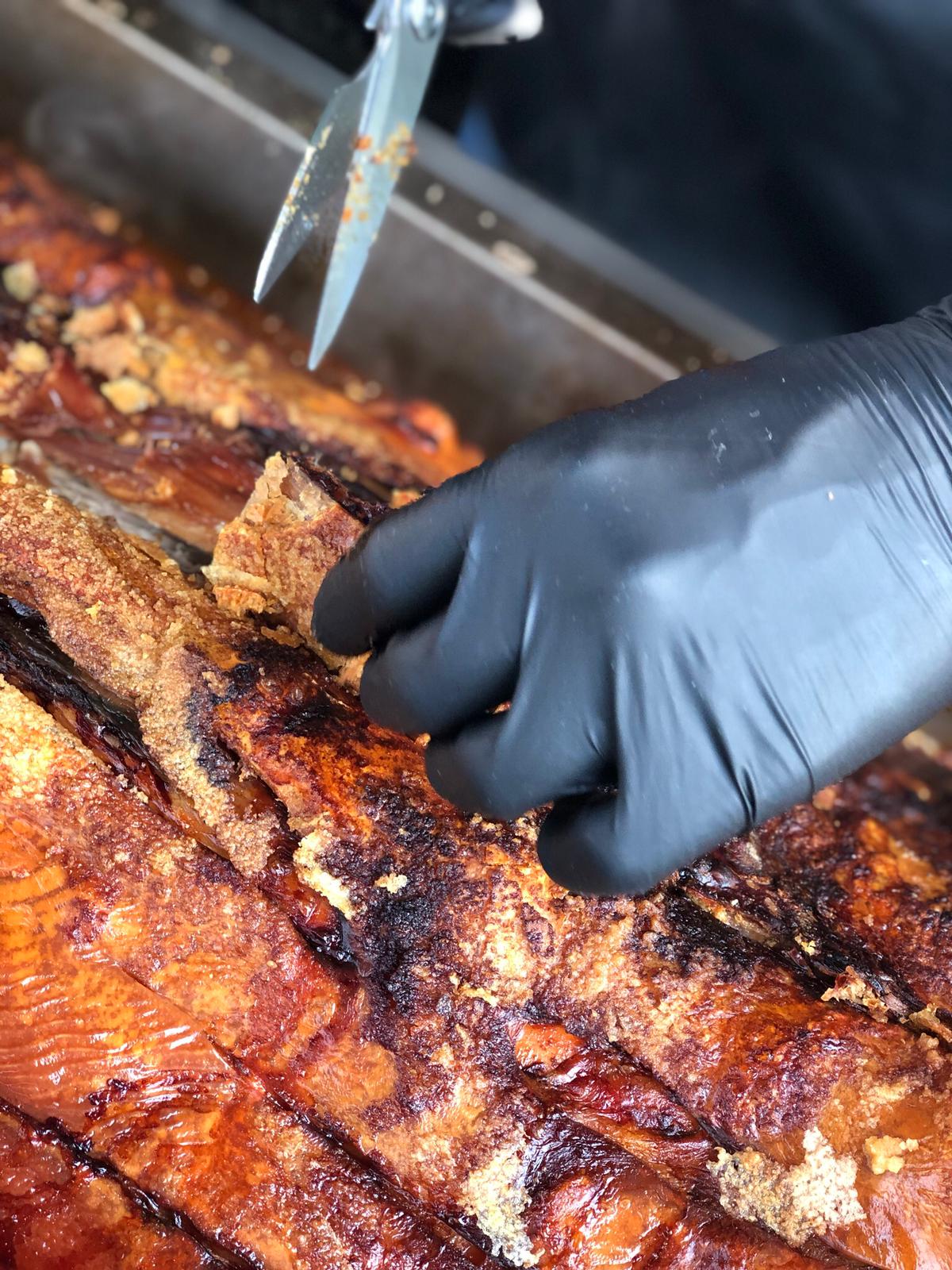 Cooking a hog roast takes around six hours to do, and in the time that it's being done on one of our state-of-the-art hog roasting machines, we prepare all the sides, salad, sauces, canapés, desserts and bread, so that we're not just stood around doing nothing. Everything we make is homemade and created using locally sourced food, from the potatoes in our side dishes and the apples in our apple sauce to the meat or poultry itself. On top of getting tasty local food at your event, you're helping your local farmers to get by.
We can stay at your party and serve you well into the early hours of the morning if your event requires our presence, so you're not left hanging once everything's ready to serve. Once the party's over, whatever food is left over is yours to keep, as you paid for it. As well as the cooking, we take care of the cleaning, plus laying out all the plates, cutlery and napkins. That means all you have to bring is yourself, your guests and the drinks. Even if you want to bring some of your own food to the party, we'll allow it. We've done catering jobs for both indoor and outdoor events across Ireland, and have had no complaints so far.
We put an immense amount of effort, craft and joy into every job we do, from the smallest family gathering to the largest wedding or corporate lunch. We make sure that everything goes well, and tailor our catering to your function's needs. We cater for both indoor and outdoor events, and our machines run on gas cylinders which we bring ourselves, but if your venue has mains electricity and if you offer to let us use it, we'll take your offer up. If not, that's not a problem.When you order from any of our catering menus, nothing can go wrong. Spitting Pig have been at the forefront of the hog roast catering business for years, and with our reliable equipment, highly-skilled staff in the form of our well-trained chefs and waiters and top-quality food, the catering at your function is going to be the best that you can possibly hope for.