Whether you are planning a family celebration, a party for friends or a corporate event a hog roast is a great option. You can easily feed a lot of guests with the beautiful, succulent meat that this cooking process produces. Over the years, the Hog Roast Antrim team has cooked hundreds of spitting pig feasts for people in the area, and we would love to do the same for you.
A spectacular spitting pig feast
A regular sized hog will feed an average of 80 guests. If you are inviting more people you can easily order extra hogs, or other spit roasted meats from us.
Our professionally trained chefs are quite happy to cook turkeys, chickens, beef, lamb, ribs or gammon for you. These meats also look and smell great while they slowly turn and cook on a spit, and of course, it all tastes wonderful.
These can be pulled from the bone and served in your choice of baps alongside stuffing and a choice of sauces. However, we also offer you the chance to have it served buffet style or as part of a carvery meal. If you are hosting a wedding or a formal event like a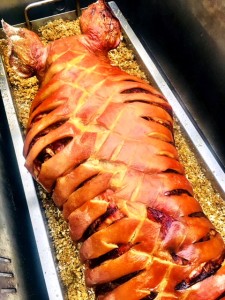 corporate dinner, we will happily provide you with waiting staff that will serve you at the table.
Our range of canapés, salads, seasonal steamed vegetables, sauces, side dishes and desserts make ideal accompaniments for the meat. Just browse through our menus then choose those items that you think your guests will enjoy the most. All of the food that we provide is made from the best quality ingredients, which are sourced locally, so you can be sure that everything will taste fantastic.
Hire a spit roast machine from Hog Roast Antrim
We also offer you the option to hire a hog roaster from us. The modern spit roasters that we cook with are easy to use. It will only take us a few minutes to show you how to produce succulent spit roasted meats using the one you lease from us.
To get a quote, and speak to a catering assistant about your event, all you need to do is to fill out the form on this website.