If you are planning a wedding feast, party or corporate event you are definitely in the right place. For more than a decade, the Spitting Pig Ballymoney team has been cooking beautiful party food for the people of this area.
A wonderful choice of party food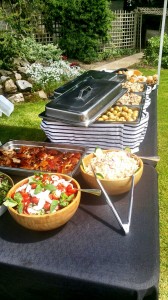 We really enjoy what we do, so are always refining how we work and coming up with new recipes and ways to serve the food that we cook. Naturally, we will still happily cook you a hog roast in Ballymoney, but we now also offer a range of other spit-roasted meats and delicacies.
Whole turkeys or chickens, joints of lamb or beef and gammons all taste wonderful when spit-roasted by our expert chefs. They are also lovely served in rolls with the appropriate sauce and stuffing. In fact, these meats are just as nice carved and served as part of a hot meal or carvery buffet.
Barbecue food also available
The catering machines we use at Spitting Pig Ballymoney can also be converted into barbecue grills. This means if you would prefer to serve steaks, chops, sausages or burgers to your guests, you can easily do so. In addition, we offer you finger foods, salads, desserts and a range of other dishes.
As soon as the food is ready, we will serve it to your guests in the way you ask us to. If you want to you can hire our waiting staff to serve everyone at their tables. For weddings and corporate events, this last option is the most popular
Ready to find out more from our Hog Roast Experts
If you would like to find out more about how we can help you, get in touch with us today and lot us know more about your needs and requirements. Whether you have an upcoming party in the Ballymoney area, or maybe planning a wedding or hosting a corporate event. Get in touch to discuss your requirements today.