If you are planning a Hog Roast in Donegal, hiring us is an excellent idea. We have provided hundreds of whole spit roasted hogs for parties and special events in the area. This means that we have plenty of experience as well as good connections with local butchers and farmers who produce the best meat and sell it to us for a great price. When you hire us you get top-quality meat, expertly cooked, for a competitive price.
Let Spitting Pig Donegal take all of the strain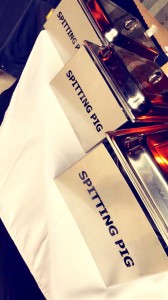 The best thing about taking care of your wedding, party or corporate event catering by hiring us, is that it will take you less than an hour to sort out feeding all of your guests. All you need to do is to click through to our menus page, select the dishes you like best and send us your order. From that point, we do the rest of the work.
On the day of your event, our professionally trained chefs turn up, set everything up and get cooking. Once the food is ready they even serve it to your guests by laying it out as a buffet or carvery. If yours is a sit-down event we can even provide you with a team of waiters.
An amazing choice of foods
The Spitting Pig Donegal team offers all kinds of party foods. As well as whole hog roasts, there are party platters, salads, vegetarian dishes, desserts and much more on our menus. If you do not want pork served at your event, we can still help. We will happily provide spit-roasted, or barbecued, beef, lamb, turkey and chicken.
Find out more by getting in touch with our Hog Roast Team
Regardless of the event you're planning, be it an upcoming party in the Donegal area, or maybe planning a wedding or hosting a corporate event. Get in touch to discuss your requirements today. We're always happy to talk through the available options and see how we can with your needs and requirements.