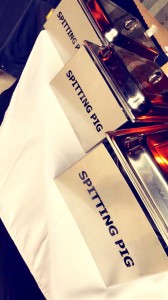 If you are planning a Hog Roast in Downpatrick, you are certainly in the right place. For more than ten years we have been providing spitting roast feasts, as well as a huge range of other party food, for people in the area.
The Spitting Pig Downpatrick team of dedicated, professionally trained chefs are ready to provide you and your guests with tasty food that you will all enjoy. It does not matter whether you are hosting a small family get together, a large corporate event or a huge wedding reception, we can take care of all of the catering.
A varied menu for all occasions
Naturally, most of our clients still like us to cook a hog roast. There really is something special about the sight of a whole hog, or a row of meat joints turning slowly on a spit. The smell is mouth watering, and the meat is always moist and cooked to perfection. All you need to do is to tell us how many people will be attending and let us know what meats you want to be cooked.
As well as spit roasted food we also provide a barbecue service, as well as a range of side dishes. The menus we offer at Spitting Pig Downpatrick are designed to be flexible. Whether you want a roast dinner served at the table, or a carvery style buffet we can provide it for you.
All of the meat and ingredients that we use are of the highest quality. Whenever possible it is locally sourced. Our professional catering staff prepares everything for you and serves it in the way you ask us to. The fact we also offer salads, desserts, stuffing, sauces, gravies, steamed vegetables, traditional side dishes and canapés makes it easy to put together the perfect party feast.
Cook your own feast
If you like to cook you may want to hire a spit roaster from us. A member of the Hog Roast Downpatrick team will explain how to cook whatever meat you want to serve, as well as take care of cleaning the machine afterwards.
To get a no obligation quote, all you need to do is to take a few minutes to fill in the quote form that is provided.