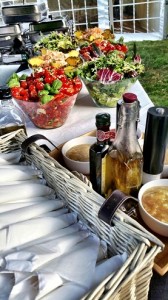 If you would like to hold a big party but are a bit worried about how you can feed a large group of guests, worry no more. The Spitting Pig Irvinestown is here to help.
No matter what type of celebration or special event you are planning to host, we can provide you with the food that you need. We guarantee that every guest's culinary needs will be catered for and that everyone will go home happy and full of good food.
Tasty food that is suitable for everyone
If you are planning a Hog Roast in Irvinestown, we are definitely the people to hire. Over the years, we have provided them for all kinds of parties and events. People love the taste of spit-roasted pork served with applesauce, crispy crackling and stuffing.
However, we offer more than just simple hog roasts. The experienced chefs of Spitting Pig Irvinestown are just as happy to provide you with spit roasted chickens, turkeys, beef joints and other meats. They are also able to cook barbecued foods, vegetarian feasts, carveries and a range of hot meals that are suitable for serving at a sit-down event.
Delicious finger foods
We can also prepare a range of canapés, salads, desserts and steamed vegetables for you. These can be served up as a buffet for your wedding, party and corporate guess to enjoy, or as an accompaniment to any spit-roasted or barbecued meats that you ask us to provide.
Our chefs are all professionals who take great pride in their work. Therefore, they only use the best ingredients. This ensures that every dish you have served at your party or event will taste delicious.
Get in Touch with our Friendly Team of Hog Roast Experts
If you would like to find out more about how we can help you, get in touch with us today and lot us know more about your needs and requirements. Whether you have an upcoming party in the Irvinestown area, or maybe planning a wedding or hosting a corporate event. Get in touch to discuss your requirements today.