If you are looking for a way to make your party catering easier, you are in the right place. The Spitting Pig Letterkenny team has the experience you need as well as an extensive menu of wonderful food for you to choose from.
Top-class chefs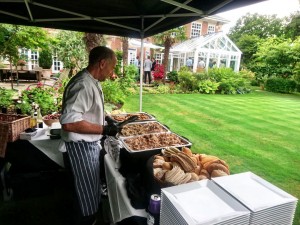 The fact that our chefs cook for large groups on a regular basis means that we know how to organise the food for any type of party or event. We can provide traditional hog roasts in Letterkenny, as well as barbecued food, a range of spit roasted meats and a long list of buffet food.
Our menus are inspired by the cuisines of the world, which makes it really easy for you to find items that are suitable for your guest's tastes and dietary needs. All you need to do is to let us know what you want and how many people we will be feeding. Armed with that information we can take care of everything from there. Therefore, when you hire us, feeding all of your guests need not take up more than half an hour of your time.
Wedding catering and much more
The Spitting Pig Letterkenny team specialise in wedding catering. However, we will happily provide food for corporate events, community days and family parties. It does not matter whether you have just a handful of guests to feed or hundreds we can supply the food for you.
If you want us to, we can provide you with a team of waiters so that your guests can be served at the table. We also offer carvery style buffets and other styles of hot meals.
Find out more by getting in touch with our Hog Roast Team
We're happy to help you by going through the available options and discussing your needs and requirements. Whether you have an upcoming party in the Letterkenny area, or maybe planning a wedding or hosting a corporate event. Get in touch to discuss your requirements today.