If you are thinking of hosting a Hog Roast in Londonderry, you have found the right firm. We have been providing spitting pig feasts, in this area, for more than a decade. Our experienced catering team and chefs know how to provide tasty food that looks good and tastes fantastic.
A memorable hog roast feast in Londonderry
We know that when you take the time to hold a party, special celebration or corporate event you need everything to be perfect. You want your guests to go home having enjoyed themselves, which means that they need to be well fed, as well as entertained.
To make sure that is what happens we offer you a huge range of spit roasted meats, canapés, desserts, salads, steamed vegetables, sauces, breads, gravies and other side dishes. Our extensive menus provide plenty of choice to make sure that you can accommodate the tastes or dietary needs of any guest.
You just need to choose the dishes you want served and leave the rest to us. On the day of your event, our chefs will arrive and cook the food fresh in front of your guests.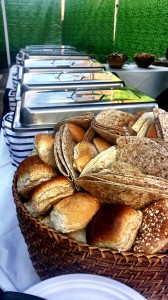 They will serve it in the way that you ask. If you want the spit roasted hog meat, turkey, chicken, beef or gammon that you order from us served in rolls with stuffing and sauces we can do that. If, on the other hand, you want the meat to be sliced and served as part of a buffet we can do that too. We also have the equipment to provide a carvery style service, or, if you prefer we will send you a team of waiting staff to serve your guests at the table.
When you hire the Hog Roast Londonderry team, you stay in charge. Whatever you want, we will do it for you.
Hire a hog roaster
For example, if you prefer to cook the meat yourself, you can do so. For a relatively low fee, you can hire one of our professional grade spit roasters, and do the cooking yourself.
To find out more about our top class catering service, please fill out our quote form that is located above this text.