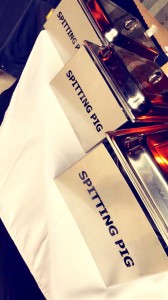 Parties are always fun to attend, but for the host, they can sometimes be very stressful. There is a lot to organise and think about, particularly when it comes to the food. If you are hosting a corporate event, a party or a family wedding you want to make sure everyone is well fed, which is where the Spitting Pig Magherafelt team comes in.
For over a decade we have been providing fantastic party food to people in the Magherafelt area. Our chefs love their work, so you know that when you hire us we will deliver food that is perfect for you and your guests.
Spitting pig roasts for every celebration
Spitting pig feasts are always popular. They are still the main type of food our customers ask us to provide. There is nothing better than the taste of pulled pork served with apple sauce and stuffing. However, we can spit roast any meat, and it will all taste wonderful.
The sight of a row of turkeys or beef joints turning on a huge spit looks just as spectacular as a whole hog does. Our spit roasting machines can also be converted into barbecue grills, so if you prefer we can also serve ribs, chicken portions, sausages and other barbecued treats.
Importantly, we also cater for vegetarians and those with other dietary needs. Our menus include salads, steamed vegetables, a choice of canapés, as well as sauces, gravies and other side dishes. We work hard so you can serve your guests with exactly the right food.
Hire a spit roaster from the Spitting Pig Magherafelt team
If you like to cook, and want to impress your guests, another option is to hire a spit roaster from us. We deliver the machine to your party venue. Then show you how to use it and even clean it up once you have finished with it. If you buy the meat from us, we will preload the machine with it, so you just need to switch the spit roaster on at the right time.
To get a quote, or hire us, all you need to do is to fill out the simple form provided on this website.