Months of school closure finally came to an end last week, much to the relief of parents, faculty and surprisingly, children! After being unable to see their peers for what felt like an eternity, pupils found themselves getting excited over this small step towards normality. Well, at least what could be considered a new version of it, anyway.
But before sending his own children back through the school gates, one of our more recent clients, Tommy was eager to give them one last treat. For this, he called upon the help of the Hog Roast Moy catering crew, who over the years has built a reputation for providing a seamless service, delectable menus that are ideal additions to any event, and fair prices.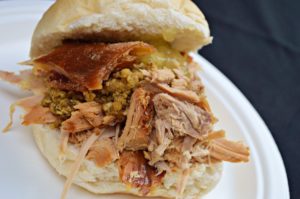 By the time Tommy first reached out to us, he already had a guest limit of 15 people in mind, which helped our Hog Roast Moy catering manager come up with the perfect menu for the intimate get-together. Keeping the celebration small meant that one of our smaller sized pigs was more appropriate for this event, and on this occasion, it was to be paired with bright and colourful salads, warm new potatoes in herb butter, mixed fries and our famous crunchy coleslaw. It's even more delicious than it sounds, trust me!
The gathering took place in Tommy's back garden where there was just enough space for the Hog Roast Moy team to set up our catering gazebo and slow roast the pig on a rotisserie fork over a low flame for several hours. Tommy and his family were almost drooling as the plumes of white smoke carried the meaty aromas throughout the client's home, but because the art of hog roasting takes time to perfect, they had to wait a little bit longer before they could dig in.
When it was finally time to carve up the golden pig, Hog Roast Moy revealed a juicy centre of fork-tender pork that proved the wait was well worth it! The guests went wild for the mouth-watering meat, which they eagerly piled onto their plates with a combination of side dishes.