When you host a party, it is only natural to want to make sure that there is plenty of tasty food for everyone to enjoy. After all, food is an important component of any celebration. Fortunately, the Spitting Pig Newtownabbey catering firm is here, ready and waiting, to provide you with all of the fantastic party dishes you need.
An amazing choice with Hog Roast Newtownabbey
If you are planning a traditional Hog Roast in Newtownabbey we are definitely the team for you. Over the years, we have spit-roasted possibly as many as a thousand whole hogs. The succulent, tasty meat always goes down well. People just love it and often come back for seconds. So, it is fortunate that a medium sized hog will easily feed 80 guests, sometimes more.
However, the Spitting Pig Newtownabbey team is always trying to improve the service they provide. That is why we now offer to spit roasting other meats for you.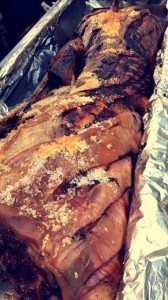 In fact, if you prefer we can easily put together a barbecue feast for you. Our fully trained chefs also know how to prepare food that is suitable for vegans and vegetarians, as well as for those with special dietary needs.
It does not matter what size or kind of event or party you are planning to host we can provide what you need. We can even provide you with a waiting service, which is a great option if you are planning a formal event or wedding. It is also possible to order carvery and buffet foods like canapés, salads and desserts, from us
Ready to find out more from our Hog Roast Experts
Regardless of the event you're planning, be it an upcoming party in the Newtownabbey area, or maybe planning a wedding or hosting a corporate event. Get in touch to discuss your requirements today. We're always happy to talk through the available options and see how we can with your needs and requirements.