There really is nothing quite like a hog roast. People love the succulent meat that is produced by the spit-roasting process. The meat is always moist and tastes fantastic, which is why the services of Hog Roast Omagh are always in such high demand.
If you are planning to hold a party, a spitting pig feast is the perfect way to feed your guests. The meat goes a long way. You can easily feed as many as 80 guests with a single, regular sized hog, and provide a range of side dishes to make sure everyone's tastes are catered for.
Your hog roast feast
Most of our clients still opt to have a whole hog served to their guests. However, at Hog Roast Omagh we recognise that tastes are changing, which is why we now offer a range of other spit roasted meats.
If you prefer, our professional chefs can cook a row of turkeys, chickens, beef joints or lamb for you and your guest to enjoy. We can also provide you with barbecued sausages, kebabs, chicken joints or burgers.
Of course, not everyone eats meat, which is why we also offer a range of vegetarian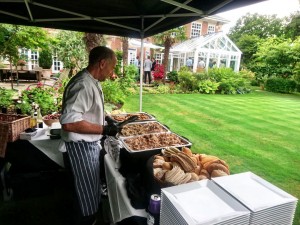 options. On our menu pages, you will find platters of finger foods, bowls of salad, sauces, gravies, stuffings and desserts. All you need to do is to choose those that you think your guests will like, and leave the preparation to us.
Everything we make is prepared using only the finest ingredients, and we serve it all the way you ask us to. Whether you want a buffet, carvery or formal sit down meal, we can do it. When you use the Hog Roast Omagh team, it is you that is in charge.
Cook your own spitting pig
There is also the option to hire a spit roaster from us. We can deliver it to you pre-loaded with meats, or you can provide your own and load the machine yourself. A member of our team will show you how to use it and get the best results.
Hiring us is easy; all you need to do is to fill out the quote form that is located above.