Andy had worked long and hard over the summer to ensure that the finishing touches had been made for his new band. They'd begun work at the start of this year and had really turned serious over the summer after they'd had many successful gigs. However, Andy's band was still quite small and not very well known. His bandmates had agreed that they needed to get their name out there before people started booking their Christmas parties so they could be hired to feature at some.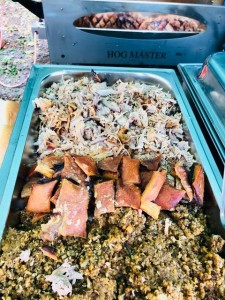 After searching through promotion ideas, Andy decided to hire out the local community centre on a Friday night in August to try and expand their fan base. Yet he needed something more to attract some party-goers. He picked two ideas, the first was to ensure there was a fully functioning and well-stocked bar at the venue. The second was to hire Hog Roast Lurgan to provide casual food for locals as they partied.
On the big day, the Hog Roast Lurgan team set up outside in the doorway to the green space behind the venue so that party-goers could try the hog roast without leaving the band. After going over some final sound checks, people started to arrive and gather at the venue. Hiring Hog Roast Lurgan had been a complete success, it definitely created a great atmosphere and turned Andy's miniature concert into more of an event with a bigger crowd than he had anticipated.
Despite feeling slightly nervous, Andy's band put on a brilliant performance as people enjoyed a fantastic selection of food. There was a never-ending queue to the Hog Roast Lurgan stall but luckily they'd cooked more than enough to satisfy the guests. The event benefited both the hog roast company and the local band as they both gained new supporters and it got both the Hog Roast Lurgan and Andy's band name out into the local area. Andy's band have already been booked do more performances in the future and many of the local bars and pubs now have their eye on them since beholding the number of party-goers that follow them to their gigs.