At Hog Roast Hillsborough, we have menus that are ideal for any age range, which makes us the ideal caterer for family celebrations and parties. Whatever level of formality you require, our team are on hand to help! At any event that we cater for, we ensure that there is a dish for every guest to enjoy, and this Holy Communion was no exception…
This April, Hog Roast Hillsborough was hired to provide catering for a Holy Communion taking place in Northern Ireland. Richard contacted our catering manager Jamie to arrange a menu for his daughter's event, which needed to be ideal for guests of all ages. After looking through our menus, it was decided that our Southern slow roast was the ideal choice. The guest list for the event was 18 adults and 20 children and the entertainment included bouncy castles and an exotic animal show. The event was set to be a lot of fun and Hog Roast Hillsborough was excited to get involved!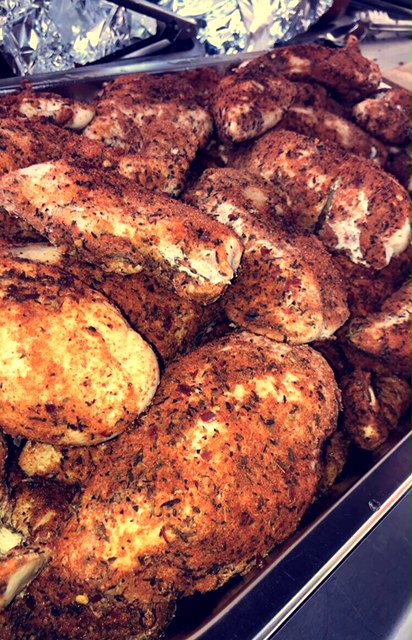 On the day of the event, the team began by preparing the three main dishes. We slow-roasted a beef brisket, Cajun whole-roasted chickens, and sticky ribs, which ensured that there was something for everyone to enjoy. For the side dishes, we also served corn on the cob, green leaf salad, baby roasted new potatoes, and traditional fires. The menu included something for guests of all ages to enjoy and there was plenty to go around. Our catering went down a treat and it was great to see so many guests enjoying what we had to offer. Our catering was a great addition to this event and Hog Roast Hillsborough was happy to be part of such a special day!
Whatever style of catering you require, Hog Roast Hillsborough are on hand to help you out! Regardless of your formality or party size, our team have a catering package that is ideal for you. To find out more, simply let us know your party size, date, and location and we can do the rest.