The world of corporate hospitality has traditionally come to mean cold buffets and a small section of soggy sandwiches. Here at Hog Roast Sligo we want to improve people's perceptions of what the world of corporate hospitality can be by providing delicious hog roasts for all occasions.
This week Hog Roast Sligo were at the local football club to prepare a meal for all the newest season ticket holders. This was a very important day for the club as it gave new ticket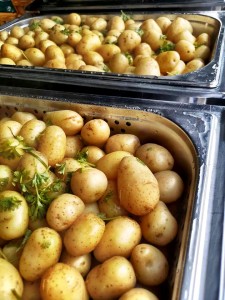 holders a taste of what the club could offer and often enticed people to book out the many function rooms for their own events. We had been asked to prepare a traditional Hog Roast Sligo meal that consisted of slow roasted hog that we cooked for several hours and  then shred the succulent meat and serve on freshly baked crusty bread rolls. We, as always, made sure to prepare plenty of our chefs' sweet homemade applesauce that complements the meat perfectly. For the side dishes we had roasted new potatoes smothered in a herb and garlic butter, corn cobettes that we cooked on the grill and a vast array of salads. Our chef artistically prepared a  traditional Waldorf, a basic yet delicious green leaf and finally our speciality the tomato and mozzarella salad.
With all the food prepared and cooked to perfection we began to serve to the many season ticket holders who were enjoying their taste of the clubs luxury. Unfortunately, there was no match on today but that just gave everyone more time and chance to focus on the Hog Roast Sligo food delights on offer! We lost count of how many people arrived for second helpings which is always a great end to an event as we know it means another job well done…