The Hog Roast Londonderry team had the honour of cooking at the town hall last week for a group of guests from France whose town is twinned with ours! The trip had been in the pipeline for quite some time and the local council and community had planned every detail very carefully in order to provide a warm welcome and a fun-filled few days for their continental counterparts. Their host wanted to show the visitors the best of what the town and surrounding area had to offer and what better way of showcasing local cuisine, than hiring Hog Roast Londonderry to provide a delicious, freshly prepared buffet in the square outside the town hall, using the very best locally-sourced ingredients! The organisers opted for one of our classic hog roasts accompanied by warm buttery new potatoes and homegrown seasonal vegetables to treat their guests and we were in no doubt that they would be impressed!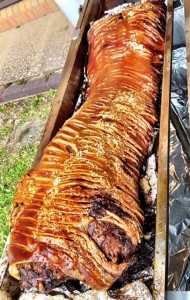 We arrived in the morning and were met by Claire, who was in charge of the proceedings. The plan was for the French visitors to be taken on a tour of the town during the morning, followed by meeting the mayor at the town hall and being served their high quality, local lunch at 1pm sharp by our Hog Roast Londonderry super Chef and capable Catering Assistant! We spent the morning ensuring our ethically-reared pork was cooked to perfection and everything was immaculately prepared for this important lunch date.
We were ready to wow our diners from across the channel at 1pm sharp just as the mayor was leading them down the steps and into the square. Every member of the group was blown away by the quality of the food, especially as British cuisine hasn't always had the best reputation. Our French friends were also fascinated by our hog roasting machine and they couldn't believe we had prepared a restaurant standard meal outside in the town square!
Our hosts were also full of praise for Hog Roast Londonderry's efforts and told us it was the perfect start to the long-awaited visit and they also thanked us for doing our bit for international relations!