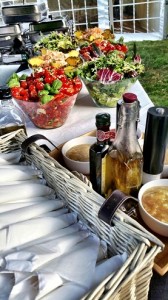 For any celebration, food is a crucial component. Get that right, and you send everyone home happy. Unfortunately, if you get it wrong your guests will be disappointed. Luckily, when you hire the Spitting Pig Bangor team you do not have to worry because we take care of everything food related.
Over the years, we have built up a lot of experience so know how to put together a spectacular party feast. Our experienced chefs prepare tasty dishes made with the best, locally sourced, ingredients.
Bangor Spitting pig feasts and more
The menus we offer allow you to choose the food you want your guests to enjoy, and how to have it served. If you want a traditional spitting pig feast we can cook it for you and serve the hog meat pulled in soft bread rolls. People love this, especially when they taste our fantastic stuffing and applesauce. This is a really good option for a bonfire night celebration or a casual family birthday party.
However, we also cater for far bigger, more formal, events too. If you are hosting a corporate event or have hundreds of wedding guests to feed we can still take care of them all.
Our modern spit roasters enable us to cook any kind of meat including lamb, gammon joints, turkeys and chicken. They convert to barbecue grills so we can also serve up chops, chicken portions, fish, vegetarian burgers and a host of other options.
This can all be served to your guests, at the table, by our professional waiters, or set out as a self-serve buffet. We also provide canapés, salads, steamed vegetables, potato dishes and much more. The Hog Roast Bangor team really is ready for anything.
Our cook your own option
If you fancy cooking a spitting pig yourself, with a bit of help from us, you can do so. You just need to hire one of our modern hog roasters, load it with meat, and turn it on at the right time.
Hire a hog roaster from us
Hiring us is easy. Just key your details into the simple quote form that is provided on this website, and let us get back to you with a price.