It was another successful night of catering for the team at Hog Roast Dundalk, who found themselves hosting an event that truly is our bread and butter – a wedding. For decades, we have built a reputation as the nation's favourite Hog Roasting Company by providing our artistic cuisine and wonderful service to happy couples on their big day. The reason we get it right? Preparation. A wise person once said that by failing to prepare, you are preparing to fail, and that's why we make sure to meet with every prospective client prior to an event, in order to make sure that we've taken care of every last detail.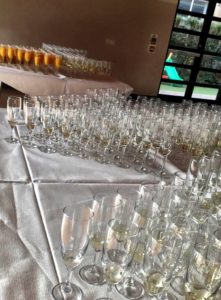 Our latest wedding, was for a couple of childhood sweethearts, Marc and Michella, who despite only being twenty four, have been together for a whopping ten years! They asked us to provide a wonderful Spit Roast for their big day, and so they selected a couple of meats and sides to be served at the reception. A spit roasted pig truly is a work of art. Slightly different to the slow hog roasting process, which are slow cooked on a tray, a Spit Roasted Hog is turned constantly during the cooking process. This allows the natural basting fluids to disperse evenly throughout the meat, achieving the most succulent of finishes and the crispiest of crackling.
The wedding service was still in action, as the team from Hog Roast Dundalk arrived at the function room venue for the reception. As we slow cook all our meats, we always arrive plenty of hours in advance of the serving time, so that when the guests arrive, everything is already prepared. Marc and Michella, and their 80 or so guests arrived at roughly seven o'clock in the evening, where they were greeted by our waiting staff who offered a glass of champagne. The room had been adorned with pictures of the happy couple and the tables were all laid with high quality tablecloths and silver cutlery. The spit roasted Hog was served buffet style, in accompaniment of a seasonal veg medley and roasted new potatoes.
After the mains, dessert was available for those who wanted it – Sticky Toffee Pudding with Ice Cream, delicious! And as everybody danced and celebrated Marc and Michella tying the knot, the team from Hog Roast Dundalk tidied away their mess discreetly and disposed of any waste off-site.