At Hog Roast Glenariffe, we often deal directly with event, wedding and party planners on behalf of their clients, as well as with the staff at venues that have been booked by them. There are many reasons why this can be a great idea for you, especially if you're planning such a special day as your wedding, and not least because it takes a weight off your shoulders by letting someone organise certain elements for you – like finding and booking first-class caterers who provide tasty food and at an affordable price. Speaking of which, we do just that!
Colleen from Kilmore Country House in Glenariffe booked our services for an event with 100 guests and we recently catered it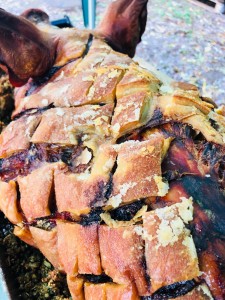 with style, with our simple albeit succulent and moreish pigs in buns, otherwise known as hog roast rolls – our hugely popular Menu 1. When Hog Roast Glenariffe creates these delicious masterpieces, it's after first sourcing a top-quality local pig from one of our trusted suppliers, lovingly preparing it and then roasting evenly and thoroughly for several hours while we watch over it. Once cooked to absolute perfection, we carve away and cram bits of crispy crackling and juicy slivers of meat inside fresh, floury bread rolls (or wraps if preferred), add a dollop of our homemade apple sauce and some of our own-recipe sage and onion stuffing, and then hand over to you and your guests to add your choice of condiments.
When our Hog Roast Glenariffe team arrived at the exclusive venue, we found it to be a charming 17th Century house and lovely grounds in a gorgeous setting surrounded by hills – ideal for a romantic wedding. It's a fairly recent wedding venue, having only been established in 2017 but it has everything you need and more. There's a luxury outdoor pavilion onsite that has spectacular views and there are acres to explore. We were bowled over and we hoped the guests at this event would be by our food, too, and we weren't disappointed. Everyone loved our pigs in buns, and many a guest queued up for seconds or more, which is just what we like to see.