Ian's annual trip to a local carvery for a Father's Day lunch had become a family ritual that his two sons had had enough of! Whilst their dad seemed perfectly content to go to the same place and eat the same food year after year, they thought he deserved a change and conspired behind his back to plan a surprise treat for their deserving dad! Since Ian was a massive pork fan and always opted for this at the carvery, his boys decided to still let him have his favourite meat, but prepared to the highest possible standard in their own back garden. The only way they could achieve this, was to hire Hog Roast Holywood to provide one of our legendary slow-roasted feasts for Ian to enjoy with his family in the comfort of his own home!
For their cunning Father's Day plan to succeed, they required a bit of misdirection in order to fool Ian that it was business as usual, discretion from the grand-kids so they didn't give the game away, and perfectly-timed, impeccably-prepared food from the Hog Roast Holywood team! Whilst we couldn't vouch for the grand-kids keeping schtum, we could certainly guarantee we would uphold our end of the bargain to give Ian a memorable day!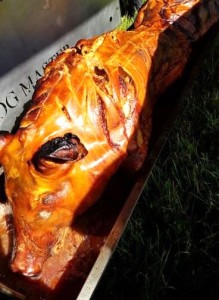 After being given the all clear that Ian was out of the house, we swiftly set up our space saving Hogmaster in the family garden and whilst his sons were keeping their dad occupied with a family trip to the park before lunch, we made sure our locally-reared pork was at its succulent best and our crackling had just the right amount of crunch! We were ready to serve right on cue as always, and Ian's sons were given the all clear to come back to the house, pretending to their dad they had forgotten something and needed to make a quick stop at home before going to the carvery. Little did Ian know what really awaited him in the garden and his face was a picture when the penny dropped! It was a lovely family gathering and the delighted dad announced that after tasting our superior version of his favourite pork lunch, he wants to ditch the carvery permanently, and make a Hog Roast Holywood feast his new Father's Day ritual!