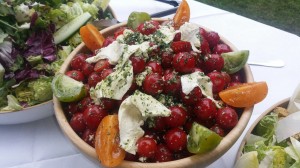 When people celebrate a special event like an anniversary, wedding or a big birthday they like to hold a party. Companies like to do the same thing when something important happens. For example, when they launch a new product or win an award. At Hog Roast Portadown we have catered for all kinds of corporate events, weddings, anniversary dinners and other events.
Party and event food for any occasion
Our service is designed to be as flexible as possible. We are set up to cater for any size or type of event.
For smaller family get-togethers, we offer smaller spit roasts. Whole turkeys, chickens, joints of beef or lamb, suckling pig and gammon are all a popular choice for this type of party.
But, for the events where hundreds of guests have been invited we are usually asked to provide one or more spitting pigs. An average sized hog can easily feed 80 people, so they really are the perfect option for a large event or party.
The sight of several hogs turning on spits, with a professional chef, and full waiting team, in uniform is an impressive one. This type of food adds something special to an event.
All of the meat we provide is sourced locally, where possible, and is of the finest quality. It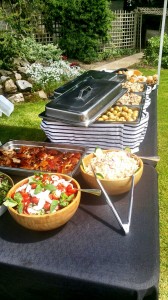 is all cooked to perfection, and presented beautifully to your guests alongside your choice of canapés, salads, vegetables, sauces, stuffing, desserts, gravies and other side dishes.
You choose how all of the food is served. Spit roasted meats are particularly nice when they have been pulled from the bone, then served in baps. It is even nicer when stuffing and a nice sauce are included in the bread roll.
However, we also offer you the chance to have your food served as part of a carvery or a traditional buffet. There is also the option to hire a waiting team from Hog Roast Portadown, and have your guests served at the table.
Hire a spit roaster
If you fancy cooking a hog roast yourself, we can help. You can hire a hog-roasting machine from us. We explain how to use it, and help you to calculate the cooking time.
For a quote, please fill out the form that is located at the top of this page.