If you fancy a DIY this autumn, or at any time of the year, Hog Roast Strabane can easily help you to become a pro in no time at all. When we rent out our own range of hog roast machines, the same high-quality ones that we use ourselves when catering for parties and events, you get the expertise, experience and knowledge of our highly-trained chefs as part and parcel, so you'll quickly be able to find your way around our equipment and before you know it, you'll be hog and spit-roasting like you've been doing it forever.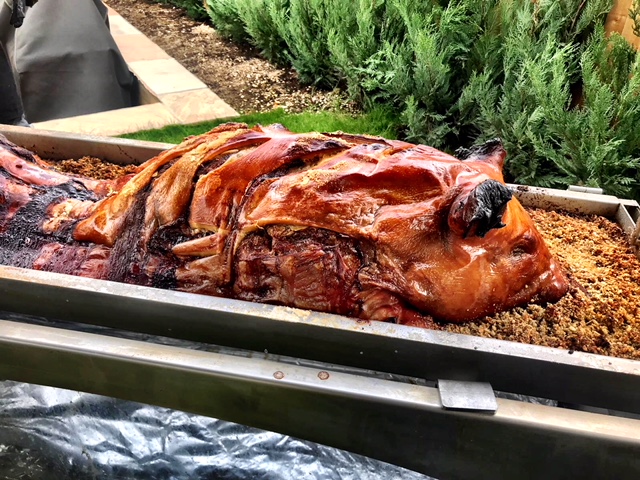 Drop-off and collection of the machine are both included in the price, regardless of whether you're a professional caterer needing to hire one of our machines to cater for your own customers, or whether you're a domestic chef, wanting to cook up a storm at home for your family and friends. Either way, Hog Roast Strabane is a great choice when it comes to hiring our hog roast machines and not just to make hog and spit roasts. We designed our range to all work like conventional ovens, so you can cook vegetables and potatoes inside while your meat is sizzling to perfection on top and you can also barbecue meat with our attachment if preferred too. The possibilities are endless with our machines.
One of our Hog Roast Strabane long-term customers, Lance, has invited us to cater many of his parties over the years, both private ones at home and ones at his business too, but he recently wanted to try his hand at a DIY hog roast. When Lance called us to book a machine rental, he told us that we have always made it look so easy and we told him that with our equipment, it really is, as long as you follow the simple instructions.
On the day of the hire, our chef dropped off the machine at Lance's home, together with a small hog, which we can provide for an extra cost if needed. Before too long, he was armed with all the knowledge he needed and we left him to it, singing away to himself as he prepared and roasted the meat just like a pro.