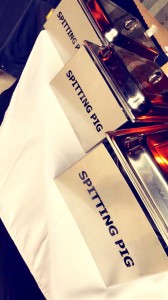 If you are organising a party, corporate event or wedding there is a lot to do. For example, feeding a large group of people can be complicated. You have to make sure there is enough for everyone to eat, and that it is all ready at the same time and served at the right temperature.
If you are not used to cooking for a lot of people, this is very difficult to do. Fortunately, there is an easy alternative, which is to hire the Hog Roast Strabane team to do it all for you.
Tasty spitting pigs and more
For many years, we have been catering for corporate events, weddings and family celebrations in the Strabane area. We take all of the stress out of feeding a large group of guests.
You just need to browse through our menus and choose the dishes that you want served to your guests. We offer a huge choice of different party and event foods.
Our experienced chefs can easily spit roast you a whole hog, or if you prefer, beef, turkeys, lamb, gammon, suckling pigs or chicken. Once cooked, the meat can be served simply in baps with a choice of sauces and stuffing. Alternatively, your guests to help themselves from a buffet table, which our staff can provide and lay out for you.
For those that are holding formal events, we also offer the option of having their guests served at the table by our waiting team. In that situation, the meat can be served sliced with a range of sauces, seasonal vegetables and a choice of potato dishes. It is also possible to order salads, side dishes, platters of finger foods and desserts from us.
Hire a spit roaster from Hog Roast Strabane
We also offer you the chance to hire one of our spit roasting machines, which will enable you to cook the meat for your guests, instead of us doing the cooking.
It does not matter what type of party food you want, Hog Roast Strabane can provide it for you. All you need to do is to take a few minutes to fill out the quote form.