Hosting an 18th birthday party is a great celebration, especially if you combine the party with a theme! There are loads of great themes to choose from, including the 80s, Hollywood, or movie characters. Choosing a theme makes your party planning even easier since it helps you with décor, entertainment and catering. Hog Roast Derrynoose recently catered for an 18th party and this is the menu that we provided…
As Lily's 18th birthday approached, her parents began to plan a great birthday party for her friends and family. Lily had wanted the party to have a theme, with the guests all wearing fancy dress for the occasion. She decided that a Hollywood theme would be perfect, paired with formal catering to match the tone for the evening. Lily's parents contacted Hog Roast Derrynoose to enquire about our menu options and we decided that our formal dining package was just right!
The birthday party took place in a beautifully decorated marquee, with a red carpet and 'paparazzi' station. The Hog Roast Derrynoose team set up our catering station inside the venue, giving ourselves plenty of time to prepare and cook the dishes.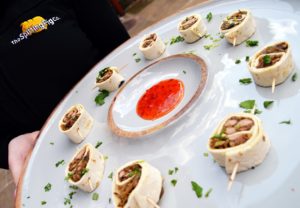 As the guests arrived, they were served a selection of delicious canapés by our experienced waiting staff. The dishes included pan-seared salmon, succulent duck breast, and a selection of mini pizzas. This set a formal and luxurious tone for the evening and introduced the guests to our catering style.
Once the guests were seated, they chose between beef sirloins or slow-roasted pork for the main course, with BBQ pulled jackfruit for meat-free guests. The main dishes were served with a selection of accompaniments, as well as seasonal vegetable dishes and roasted baby new potatoes. There were plenty of options to choose from, with something to suit every taste.
To finish the catering, we served profiteroles and sticky toffee pudding tableside. The desserts were served with fresh fruits and delicious English cream.
Do you have a milestone birthday approaching? If so, get in touch with Hog Roast Derrynoose today to book your catering package. With over 7 different menus to choose from and a variety of catering styles, we have something that is just right for every event!