Hog Roast Belcoo are experts in providing a catering solution for you to sit back and enjoy your celebrations with those close to you completely stress free! We understand that having to arrange catering for a large number of guests can put pressure on you to the point where you can't enjoy your event to the max. Instead let the experts take control, grab a drink and mingle with your guests.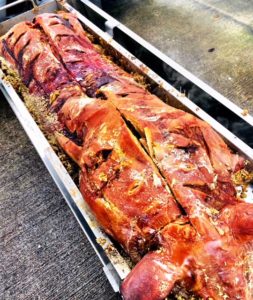 Gemma was very glad she chose this option at her sons christening celebrations, she thought hosting the party at home would be stressful enough without having to cater for all the guests too. We arrived early and got set up at the bottom of the garden while Gemma and the guests were at the church. Hog Roast Belcoo knew the guests would be arriving back at approximately 12.30pm with the food expected to be served anytime between 1pm-1.30pm.
Following the guest's arrival, the scents of a delicious spit roasted pig was filling the garden and the guests were eagerly awaiting their hog roast roll! Gemma's mum was taking charge of the 'Home Bar' that was nicely stocked up for everyone to enjoy and she was making sure everyone's drinks were well topped up! With the drinks flowing, there was time for only one thing, Gemma to announce that the food was ready to be served. The guests flocked over and fresh bread rolls were jam packed with our juicy pulled pork, a piece of crispy crackling and of course not forgetting a generous amount of flavourful apple sauce to give the extra finish.
The guests loved their Hog Roast Belcoo rolls with plenty coming back for seconds, well at least trying to fit seconds in if they could anyway! Once all the delicious food had been devoured we started to load the van and discreetly pack away while the guests were still enjoying mingling and drinks still flowing. A lovely afternoon well spent and leaving with very happy customers puts smiles on our faces.