Last week the Hog Roast Strangford team were asked by a graphic design company to help them celebrate moving up in the world with the opening of their new office! Company Directors and good friends Gary and Rich quit their jobs 2 years ago and started running their new business from Rich's bedroom. During that time their graphic design enterprise has flourished to the point where they started hiring staff, but with no premises for the company, everyone was required to work remotely and get together once a week in a pay per hour meeting room. Gary and Rich knew this was far from ideal, and that the time had come to take the plunge and get an office of their own! They just had to throw a party to celebrate this major mile-stone in their lives and to thank their staff for of their patience during the transition period!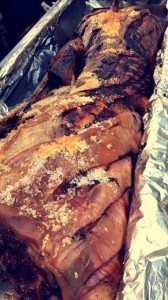 With a lot of overheads to think about, the entrepreneurial pair didn't have a huge budget for the celebration, but they still were still determined to make it a night to remember. Obviously, they wanted it to take place at their snazzy new office, but they didn't just want to throw together any old grub. They found exactly what they were looking for in Hog Roast Strangford's sophisticated, yet wallet-friendly, range of corporate menus! Not only could we cook amazing food on the premises, it wasn't going to bankrupt them before they had even settled in!
Gary and Rich chose a classic hog roast, which was slow-roasted for several hours in the kitchen area of their new office under the watchful eye of our skilled chef, whilst the excited business owners busied themselves with making the final touches to their long-awaited HQ! As the pork was nearing completion and the bubbly was on ice, the rest of the staff members began to arrive, all eager to get stuck into our buffet, and of course to see their workplace for the first time! As drinks were poured and toasts were made, the fledgling graphic design team complimented our creative catering assistant on his eye for detail and composition, whilst he was adding his last bit of je ne sais quoi to the veggie skewers, crispy Thai salad and potato wedges to accompany to pork!
The food went down as well as the new office did and the Hog Roast Strangford team would like to congratulate Gary and Rich on making the move from bedroom to boardroom!