At Hog Roast Derry, we're all about giving our customers choices. We are a renowned catering service that's loved by many and that's for all kinds of events and parties, both local and national, formal and informal and for all budgets. Whatever you have in mind, we can provide delicious food at a reasonable price, and with excellent service to boot. What you may not know about us is that we also sell and rent out our own range of hog roast machines so that customers can DIY. Both professionals and domestic chefs buy and hire from us in order to roast meat such as pork, lamb, beef, chicken or turkey, or even to use the machine to barbecue, to cook all kinds of potatoes and vegetables or even to cook a pizza. Our machines are multi-purpose and can be used like a conventional oven, so there's no limit to their use.
For some years now, Eric has been a repeat customer of Hog Roast Derry, using our catering services for private parties at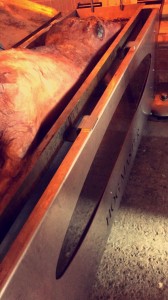 home and for his daughter's wedding day. Having been a fan of hog roasts for a long time, Eric decided he wanted to cook his own for his wedding anniversary party in his large back garden, so called us to ask about hiring a machine and sourcing the meat. Using one of our machines is simpler than you may think – it's just a matter of setting the temperature and turning it on – though you do need to watch over the meat as it sizzles away. The hard part is the preparation of the meat beforehand (though for our Hog Roast Derry team, after all these years, it's a joy rather than hard work!)
Eric asked us to provide a hog as part of the service, which we often do, and we organised when to drop the machine off at his home, which is included in the price (as is collection afterwards). We showed him how to use the machine, talked him through preparing the meat and then left him to his own devices once he was content with the process. When we returned to collect it, Eric was happy to report that his first ever hog roast was a resounding success and he now wants to DIY at home more often, though he'll leave the big family events to us!