Hog Roast Inishrush's formal wedding catering menu with the evening buffet is a fantastic menu to have for your wedding covering all aspects and ensuring that your guests won't go hungry! Other than guaranteeing you extremely delicious food, this menu offers a sophisticated and pristine vibe with waitresses and waiters professionally dressed to serve and a chef in chef whites cooking away at the back.
What to expect with this menu?
Two of Hog Roast Inishrush's team will serve your welcome, reception drinks. You provide the required glasses and drink choice, and the team will provide the service. They have done all sorts of welcome drinks in the past, to making up Pimm's, Bucks Fizz, Prosecco to even tea so whatever you would like to have the team will have it sorted.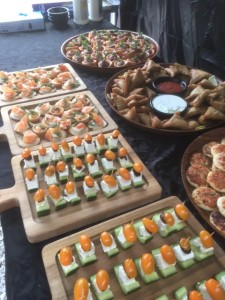 While the welcome drinks are being handed out, waitresses and waiters will be wondering around your guests with wooden boards that will have your chosen canapés beautifully displayed on them. Hog Roast Inishrush has a delightful selection of canapés for you choose from, you will choose five for your guests to enjoy on your day.
Once your guests have been seated, your selected starter will be served to table. The tables will have already been laid with the appropriate, crockery, cutlery, and napkins. If you wish any bottles of alcohol or candles being lit while the team goes round, then just let the catering manager know and it will be sorted out on the day no problem.
The main course will be served as a buffet where guests will go up to the serving tables and be served the food onto their plates by the team. The main course is certainly a feast with you selecting two meat options, side dishes of either salads or vegetables, and a potato option. A vegetarian/vegan option will also be provided alongside any dietary requirements.
Once the main course is cleared, desserts will be served to the table with cream and fresh berries. You will choose two desserts and receive a 50/50 divide for your guests to decide on.
At time convenient to your time schedule, your wedding cake will be plated and served to the tables with the option of tea or coffee. As a little extra Hog Roast Inishrush provides a mini chocolate mint to be enjoyed as well. Cream will be made an option with the cake.
The final event, the evening buffet. This will be freshly prepared and served as your reception food from serving tables.
A fantastic menu to be thoroughly enjoyed by you and all your guests. Enquire now!