It wasn't just the Hog Roast Antrim team who had to be match fit bright and early on New Years Day-the local football team who asked us to come along and cater for their first match of the year, also had to make sure they didn't overindulge in the celebrations too much the night before! It has become something of a longstanding tradition to get out on the pitch on the New Year's Day and this year they decided to ask us along for good measure, to help them encourage their fans to get out of bed and come to cheer them on whilst enjoying some of our signature slow-roasted pork sandwiches for the perfect hangover cure!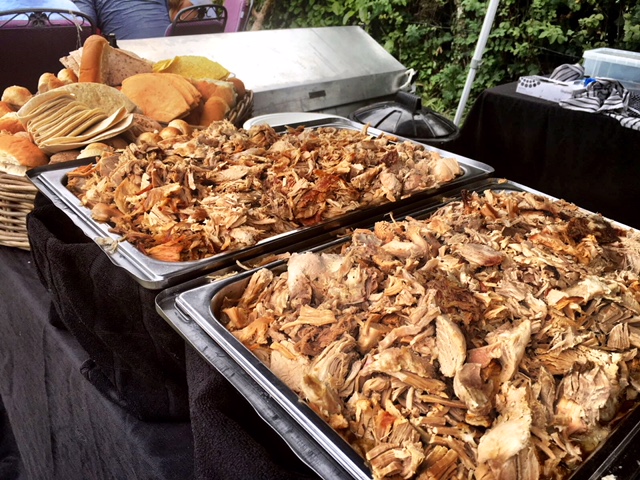 True to form, our Hog Roast Antrim super chef and plucky catering assistant arrived at the stadium several hours before kick-off to make sure our locally-sourced meat was cooked to perfection by the time the fans started to arrive. We were shown to our cooking area by the club Chairman's assistant and got stuck into our pre-match preparations as the team were completing their warm-up.
Luckily for the 11 men on the pitch, our dynamic duo off the pitch were also displaying 1st class teamwork, as we worked methodically throughout the morning to ensure the fans would be well-fed during the match.
Apparently, the turnout for the New Year's Day match is understandably a bit hit and miss, but on this occasion, there was barely an empty seat to be seen! With sore heads forgotten as the crowd got a whiff of our premium pork, we were soon inundated with orders and with our usual friendly efficiency, we served everyone in record time without anyone missing a single corner, header or more importantly-goal!
We were glad we managed to help the team rally the troops to come and watch them, especially as they won 3-1! There was still plenty of pork left for the players to savour after the match as well, which they all enjoyed immensely after their energetic and successful start to 2019! The Hog Roast Antrim team had a great day too and we hope the rest of their season goes just as well!