It was beehives and winklepickers galore last Friday when Hog Roast Ballygalley were at the helm to cater for a swinging 60s retirement party! Janice, who had been with her company for 20 years and had already stayed on for an extra 5 years after retirement age, had reluctantly decided that is was finally time to go. Her beloved colleagues, who were just has sad to see her leave, wanted to make her send-off a night Janice would always remember by throwing her a goodbye party themed around her favourite era! They had gone all out with decorations and costumes, and they even hired a local Beatles tribute band to provide the music. With all the other elements in place, they were left with the dilemma of the catering. They needed a company who could provide food Janice would love, whilst also being able to fit with the theme. After ringing around to no avail, luckily for them they came across Hog Roast Ballygalley's website and they knew their search was over!
Janice's colleagues opted for a menu of classic canapes, including smoked salmon and pâté en croute, and a traditional Hog Roast served buffet-style, so guests could enjoy the food as and when they pleased and get to spend as much time with their guest of honour as possible before they went their separate ways.  We arrived at the party venue several hours before it was due to start and as always, got stuck into preparing everything from scratch. As we worked throughout the day, Janice's colleagues gradually transformed the function room into a hip 60s nightspot and when the band arrived, we felt like we were cooking in the Cavern Club!
As much as we were enjoying the ambience, the Hog Roast Ballygalley team remained focused on the task at hand and didn't get in anyone else's way whilst the other preparations were underway, which is one of the reasons we are so good at what we do!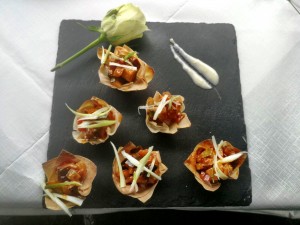 As promised, we were ready with the canapes and bubbly when Janice arrived, and her jaw dropped to the floor when she saw what her colleagues had done for her! It was a night filled with fun, nostalgia, tears and of course, great food courtesy of Hog Roast Ballygalley, and we wish Janice a long and happy retirement!