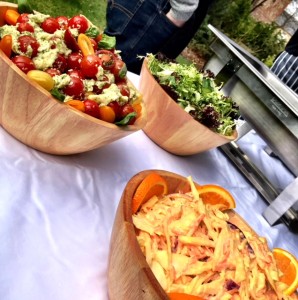 It was the May Day Bank Holiday Weekend and the sun was shining, which was amazing for a bank holiday really because normally in the UK it rains every time there's a bank holiday. The forecast for the weekend was amazing with wall to wall sunshine. Every May Portrush's park have a May Pole dance where the local junior school learn to do the traditional May Pole Dance. Over the years it's turned into a bigger event with Clog Dancers and Morris Dancers coming from all over the country doing the dances that are relevant to the area they are from.
What started out as junior school morning in the playground has turned out to be a full family day in the park which is really nice for everyone. With it being such a big event now the organisers decided that it would be a great idea if a catering company would come along and feed everyone which would then help to keep people at the park since this had grown into a big occasion now they didn't want it to dwindle off. We at Hog Roast Portrush had done the catering for this May Day event for the last five years and we were extremely pleased to be asked to come back and for a sixth year. We very much pride ourselves on our reputation and are very pleased with it.
Hog Roast Portrush was up really early on the morning of the Morris Dance Day as we had a lot of preparation to do. As we prepare everything fresh on the day the bigger the event the early we rise, but we don't mind as it's all part of the service. The meats were are main concern making sure they were prepped and in the Hogmaster machine at the crack of dawn to make sure they were cooked in time for lunch. With over a thousand people expected we were going to be preparing a lot of salad, the fresh green salad and lovely red tomato and mozzarella salad seemed to be a great favourite from the year before. We prepared all the ingredients to make a huge tub of coleslaw so we won't run out! The apple sauce and sage & onion stuffing was also made in a large quantity.
We thought it was best to stick to one meat which was the slow cooked pork we are famous for instead of adding other options which we do offer such as beef , lamb and chicken . The pork was cooked to perfection as usual and enjoyed on fresh floured rolls by all (even the kids!) It was a great day all round. The dance troops did a great job and so did we at Hog Roast Portrush. Another successful event!