It is always great to be a part of people's celebrations through providing the catering at their events. Due to our friendly team building up a rapport with many of our clients we are often asked back time and time again to cater for the same customers which is testament to our hard work and top-quality food. This Saturday we were pleased to be asked to cater at one of our regular customers private party.
Will's family had been friends of Hog Roast Ballymoney for nearing ten years now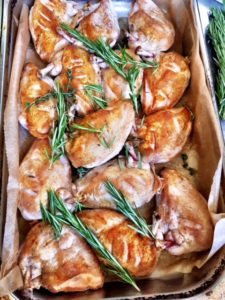 and we had seen Will grow up into the successful young man he was today through catering at various family occasions such as birthdays and weddings over the years. For this event we were helping Will to celebrate getting his promotion at work that he had been striving towards ever since leaving university. As a bright economics graduate, with a first-class degree, Will  had many options available to him and had decided to go down the consulting route. Having worked at the same firm for coming up to four years he had finally been made a senior consultant and was the youngest in his firms' history to make this achievement. It's safe to say Wills parents were beaming with pride for their son and so wanted to do something to celebrate and they thought a delicious Hog Roast Ballymoney would go down perfectly, and we had to agree!
As this was a celebration, we thought we would prepare something special in the form of our mouth-watering 'Southern Slow Roast' menu. This menu entails Hog Roast Ballymoney preparing various different meats, all cooked 'low and slow' for several hours to ensure only the most succulent meat which is packed full of flavour thanks to our secret recipe marinades. The meats of choice were pork, lamb and chicken which were to be accompanied by jacket potatoes, corn on the cobb and some vibrant salads. Will was delighted at the sight of our Hog Roast Ballymoney cooking away when he arrived at the party and we were happy to be there to congratulate him on his new, well deserved, job!