If you are planning an event that gets your whole family together then why not hire Hog Roast Banbridge to come out and do the catering. Our diverse menus and flexible style of catering mean we are able to create something to suit all of your guest's needs. We can also scale up or down any of our menus to cater for your number of guests and of course, have a wide range of vegetarian options as well as being able to cater for any allergies.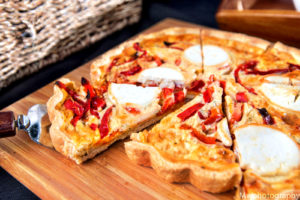 Last Saturday Hog Roast Banbridge had the pleasure of catering at Kate's 40th birthday. Having booked us weeks in advance we were all prepared and had designed the perfect menu for Kate and her guests. Kate had explained that with two of her children being vegetarian she was struggling to choose a caterer who could provide something delicious for them too as well as the meat eaters. We assured her that Hog Roast Banbridge have all the expertise required and could offer a number of vegetarian choices so this would be no problem.
We arrived bright and early as usual to set up our Hog Roast Banbridge machine and get the food cooking away ready for the guests arriving. The weather was looking good despite it being mid-February however we brought along our handy gazebo just in case as we were still cooking outside due to there not being enough ventilation indoors. For the meat eaters, we prepared a traditional whole roasted hog which we would be spit roasting on this occasion and serving up with some roasted seasonal vegetables accompanied by our homemade applesauce and of course lots and lots of crackling!
Our vegetarian options were a delicious homemade vegetable tarte and some halloumi and mushroom skewers which always go down a storm. Kate was impressed and told us her daughters would be pleased with their options which we were proud to hear!