Hog Roast Belcoo's latest client was a very special birthday boy! For his 80th birthday party Client Gene wanted a special buffet for him and his 5 very best friends to enjoy.
Gene worked with the Hog Roast Belcoo team to come up with a suitable luxurious buffet menu for his intimate birthday party. No expense was spared, he wanted his guests to have a great meal celebrating with him. Client Gene selected to have his buffet delivered, using the Gourmet Delivery service, so that the dishes would arrive ready to eat at his house and he could just serve it to his young at heart guests.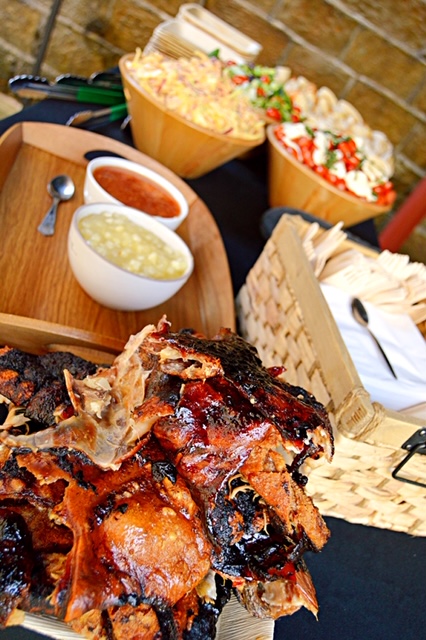 Chef Andrew from the Hog Roast Belcoo was tasked with bringing to life the buffet that fun-loving Client Gene had put together with help from the team. With a delivery time of midday, experienced Chef Andrew had to get to work early in order to have enough time to prepare all the dishes from scratch.
The part of the buffet that birthday boy Gene was most excited about was the slow roasted sirloin of roast beef served with horse radish sauce, Yorkshire puddings and a homemade red wine gravy. To go with this succulent dish there was also lots of various different piping hot, perfectly prepared seasonal vegetables. Finally, there was a large platter of new potatoes that had been roasted in rosemary and garlic. As always with Hog Roast Belcoo buffets, there was also a selection of sauces and a large basket of soft gluten free rolls for all the guests to tuck into.
When Chef Andrew was happy with the buffet he transferred it into large metal trays. These kept the food safe during the journey to Client Gene's home and also kept the food perfectly hot and ready to eat. As well as delivering the food to the client's home, Catering Manager Andrew also picked up the rubbish from the buffet after the event, so he could dispose of it safely.
Client Gene sent his thanks to the team and Chef Andrew in particular. The buffet had been everything he had wanted and more, he said it had been his best birthday ever!