Client Polly contacted the Hog Roast Castlederg team as soon as she knew that the staff canteen would be closed one day, she wanted a buffet that would feed her hard workers. The team were only too pleased to help her out by delivering a scrumptious buffet.
The menu for the workday lunchtime buffet was designed with Client Polly, so that there would be something for everyone. Chef Andrew would deliver the cooked, perfectly prepared buffet to the office for 1pm.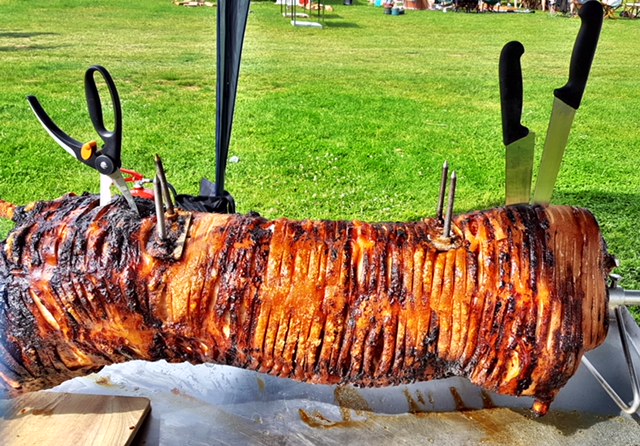 The catering package that Client Polly created with the Hog Roast Castlederg team included the provision of disposable crockery and cutlery for the 15 workers to use. These would be delivered at 1pm, alongside the piping hot buffet.
Chef Andrew worked hard at the Hog Roast Castlederg kitchens in the hours leading up to the delivery time. He created every dish fresh from scratch and once each one was perfectly prepared the dishes were put into transport trays that would keep them warm and safe during the journey.
Included in the buffet was a Classic Hog Roast. This was a slow spit roasted pig that was served with crispy crackling, homemade stuffing and apple sauce. Another tray had hearty portions of vegetarian lasagne that was ready to be enjoyed. Finishing off the rest of the buffet was freshly cooked seasonal veg and a large tray of toasty hot skin on potato wedges. There was also, of course, a basket of soft gluten free rolls and pots of dips and sauces for the guests to enjoy.
As soon as Chef Andrew delivered the buffet to the office the food was ready to be enjoyed. Client Polly could just set out the trays and the crockery and cutlery the Hog Roast Castlederg team had provided and let her workers serve themselves their meal.
The rubbish was later collected by Chef Andrew and disposed of responsibly by the team. Client Polly was delighted, her workers were well fed and could continue with their working day. It was a job well done.