Are you really a true Brit if at the first sight of some sunshine and temperatures reaching double figures you don't immediately head to a beer garden and get a BBQ cooking? This week we have been blessed with some wonderful February sun and that has meant the phone has rung nonstop for Hog Roast Coleraine which is fantastic!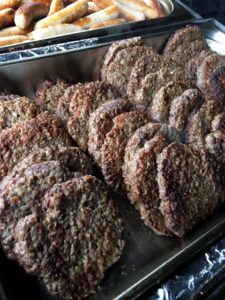 We received a call from Jane who was looking to plan a get together with her friends. Jane told us how she hated the winter months and being cold so the glimmer of sun we had this week made her want to make the most of it with a Hog Roast Coleraine BBQ, after all, who knows when we will see weather like this again?! We happily obliged and looked forward to catering outdoors with our hog roast machine.
We arrived at Janes home mid-Wednesday afternoon to prepare for an early evening BBQ. Typically, our Hog Roast Coleraine BBQs consist of your choice of meats all marinated in our chef's speciality glazes and rubs served alongside lots of grilled corn on the cobb, vibrant salads and our signature potato wedges. For Janes winter BBQ she had chosen our Cajun spiced chicken thighs, butchers selection burgers/sausages and our chefs own marinated rack of lamb ribs. Our salad selection was the perfect accompaniment; tomato and mozzarella salad and a carrot and orange salad with sesame dressing.
We quickly had the meat sizzling away and were busying preparing the accompaniments when Jane's guests started to arrive. It really is amazing how the weather can have such an impact on people's moods as everyone was in good spirits and there was a lovely relaxed feel to the evening. We began to serve up our Hog Roast Coleraine winter BBQ just as the sun began to set with a beautiful pinky orange hue in the sky. Nothing could have made us more excited for summer than this!