We were so happy to see the sun shining as we headed out midweek with Hog Roast Creggan! Seems such a long time and the sun does have a feel good factor. We were heading to a corporate event a solicitors firm that were having an annual review and having clients over and they wanted us to serve at midday.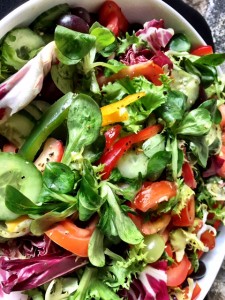 Upon arrival we unloaded the van and set up the machine our chef placed a huge brisket of fresh beef on the machine and as that cooked he then began placing lots of potatoes on the machine. Our other staff was all hard at work setting the tables with clothes and cutlery and crockery and others were working there way through the mountain of salad materials and chopping and slicing and making the salads look like a work of art! Then it was time to make the fillings for the fluffy jacket potatoes cheese and chive, tuna and sweet corn, spicy curry and a vegetable rice mix were made a good variety to please everyone. We then made some dips and sauces we make everything fresh at each event apart from the buns and pastries but again they are always made fresh on the day.The beef smelt so amazing and cooking to perfection on our hog-roasting machine. And at noon the guests arrived.
The guests were telling us that their mouths were watering at the meeting, as they could smell the Hog Roast Creggan cooking! They were all stating watching as our chef started to carve the beef into thick slices it was oozing with goodness so tender and succulent the guests were keen to tuck into the food and we were getting lots of compliments telling us that 'the meat just melts in the mouth" and how tender and moist the meat was. We love hearing this and never tire of it we keep our standards high and treat every event like its our first if the guests are happy then we are happy. We headed back and the sun was still shinning and we all agreed that we were all looking forward to catering with Hog Roast Creggan in the summer outdoors- we really can't wait!