Wherever we go we always leave with enquires for up and coming events and the weekend was no exception! We were catering with Hog Roast Coagh in a lovely little village for a 40th birthday for a client we had never catered for before, when the lady booked us she said she had been to an event we hosted previously and was so impressed with the Hog Roast Coagh food she had to book us for our birthday.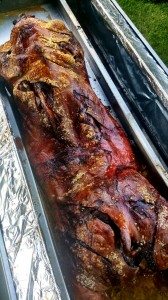 Jenna 'The birthday Girl' welcomed us and she said she hadn't stopped going on about us to friends and family and we were keen to impress. We placed the pig on the machine and it began to cook we scored the skin and placed some salt on the skin to created the most perfect crackling imaginable! We then chopped some sweet potatoes and seasoned them in spices these are delicious and are always a crowd pleaser at every event. The guests were starting to arrive and all coming over to us to have a good look at the pig and lots were keen to take pictures with the pig! We filled the tables with salads and slaws and placed a huge cheese and sliced meat platter in the middle of the table surrounded by chutneys and pickles. We were asked to bring some deserts so that morning when we baked the buns we made some profiteroles and at the event we filled them with cream and chocolate.
Everyone sang happy birthday to Jenna and then it was time to eat the Hog Roast Coagh. We chatted to the guests as they filled their plates the crackling was a huge talking point, as most had never tasted crackling before. The pork was sliced into huge slices and placed in buns our pork is so moist and succulent and everyone is always amazed at how tender the pork is. The music was playing and the wine flowing and everyone was in high sprits. Jenna said we had as always excelled and she said we had made her birthday a birthday to remember. We left feeling happy and content and that to us is the best feeling ever.