You may have enjoyed one of our succulent hog roasts and you may even have hired one of our Hog Roast Kilraghts machines yourself, to cook a roast in your own back garden. But did you know that we designed those top-class machines and that we sell them here in the UK? You can buy a Hog Roast Kilraghts machine online (even if you're not based in the UK, as we ship them worldwide) and we also sell them in-store in the northwest of England. Not only can prospective customers browse our equipment range in our showroom, but we also welcome you to have a look at our machines being made in our factory – just make an appointment with us and we'll be happy to show you around.
Brandon did just that when he called us, as he was thinking of adding the art of hog roast cooking to his catering business. Having eaten hog roasts that we've cooked at events and parties and also hired our machines for DIY hog roasts with family and friends, Brandon was already an expert in the making. He had his eye on our hugely popular Titan machine, which he had hired and loved before, but he still wanted to see our equipment range and talk to us in person about the pros and cons of each machine.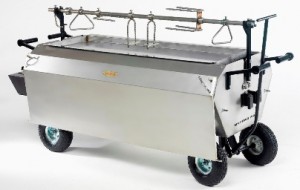 When Brandon visited our showroom and factory, we showed him the Hogmaster, Hogmaster Pro, Platinum, and Olympian hog roast machines. While he had already used the Titan, we knew he would love to watch one being built from scratch, so our factory workers got to work using only the best materials to make one right in front of him. Our experts talked him through the process as he watched intently.
One of the reasons Brandon loves the Titan is its ease of use but he's also a big fan of its manoeuvrability. Working in catering, as we know ourselves, the Hog Roast Kilraghts machine's capacity to be moved from one place to another is very important and our steering mechanism means it can be done very easily. Brandon ordered his own Titan machine earlier today and hopes to add another to his business soon