For many couples, getting engaged signifies an exciting start to a new life adventure, and, for that reason alone, these monumental experiences merit a standalone celebration. It seems we're not the only one's to think so, either! Whilst it's true that engagement parties did die down for a little while, the last few years have seen these pre-nuptial events make a huge comeback – and for a good reason, too.
First off, there's a lot more to an engagement party than flashing the ring, drinking champagne, talking about how amazing the big day is going to be and posing for pics; though, they're certainly all perks! At their core, engagement parties are a wonderful way for the happy couple to relish the special moment for as long as possible before getting knee-deep in wedding prep. Perhaps even more importantly, they're also a great way of introducing both sides of the family to each other before the wedding takes place.
Knowing all of this and hoping to be able to start the next chapter of their relationship off on good footing, newly engaged couple, Cara and Michael had called in the Hog Roast Limavady cavalry to handle the catering for their engagement celebrations.
From our large range of existing menu plans, the couple promptly selected our Southern Slow Roast feast, which they asked us to serve at their industrial-style venue last weekend. Being a converted warehouse, the building boasted high ceilings and plenty of space for all 125 guests, which made it easy for Hog Roast Limavady to set up the equipment and cook inside.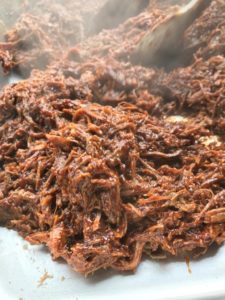 Five hours after our team arrived at the venue, the ravenous guests began arriving, and their first stop was the Hog Roast Limavady buffet, which catered to every palate with a diverse feast of BBQ pork butt, beef brisket, Cajun-spiced chicken, and BBQ pulled jackfruit rolls, each of which was served with coleslaw, salad and fries.
Everything from the presentation to the gorgeous flavours had Cara and Michael feeling impressed. So much so, in fact, that they have since decided to book Hog Roast Limavady to cater for their wedding reception next autumn!