If you want to create a great first impression, make your guests feel welcome, and whet their appetites for more great food to come, you can't go wrong if you begin your event with a mouth-watering selection of canapés. In order to make your event one your guests will remember, you need to provide food that is superior to the usual humdrum fare people have come to expect from certain types of mobile catering, and it all starts by choosing the right canapés!
Preparing canapés yourself is a time-consuming and fiddly job, and you will no doubt already have enough to think about if you are hosting an event, which is why it is always a much better option to leave it in the capable hands of event catering professionals. Here at Hog Roast Killyman we certainly have an exciting array of nibbles to choose from, with an abundance of options to suit all tastes.
You may think that as hog roast caterers, we only specialise in large scale, rustic catering, but our versatile catering team here at Hog Roast Killyman are equally capable of preparing a vast selection of precise and delicately crafted canapés for any number of guests. All of our canapés are individually handmade and comprised of the freshest locally sourced produce.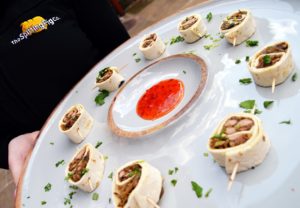 We offer a wide range of textures and flavours to please all palettes, from classic combinations including chicken liver parfait or smoked salmon served with fresh brown bread, cracked black pepper and lemon wedges to options that are inspired by different global cuisines, such as our very popular Malaysian chicken satay skewers, mini Indian dishes, and roasted duck with hoi sin sauce. We also offer vegetarian and vegan-friendly options, ensuring everyone will be able to enjoy a flavoursome start to your celebration.
You can expect the highest level of attention to detail with every carefully constructed canapé that we offer, and we can guarantee that even if you have guests with very diverse tastes, they will love the variety of canapés available.
Our canapé welcome receptions work so well for many different types of events, so please contact us here at Hog Roast Killyman to find out more about our delicious selection of canapés!