In an age that finds people busier than ever with work, as distracted as ever by the many different forms of media available to us, and as troubled as ever by the impact these things have on our mental and physical health, we believe family time is as important today as it ever was. That's why we believe you should be free to enjoy your time with your family and friends and not have to worry about hosting your event. At Hog Roast Limavady we understand how special family time is and we do whatever we can to help you enjoy it.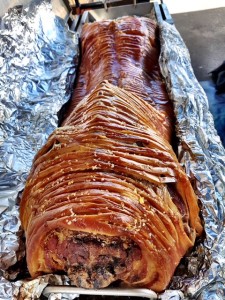 This is exactly what Mary experienced when she recently had her daughter Amy, christened. She had planned for her one hundred guests to accompany her to a function suite following the service where they could enjoy food, drink and company. However with a lot of guests in attendance,  Mary wanted to be free to talk and enjoy their company as opposed to cooking and cleaning up after them, which is why she came to us. The team at Hog Roast Limavady discussed everything with Mary in the dates leading up to her event, and covered every last detail from choice of menu, to the choice of centre pieces laid out on the tables, meaning that everything was perfect for her daughter's big day.
As the service was underway in a nearby church, our Hog Roast Limavady team were hard at work laying the final preparations to the function room, ensuring the hog was roasting with its heavenly scent wafting through the air, and the tables were laid with cutlery and the lovingly crafted centre pieces. An hour or so after the guests had arrived and settled with their drinks, the Hog was golden brown and ready to be served.
The freshly roasted hog went down a storm with Mary and her guests, who said our pigs in buns were just like little slices of heaven. But most importantly for Mary, the hosting duties were taken care of by our crack team, leaving her free to enjoy her time with her friends and family, just like she wanted.