After having had a secret engagement that has lasted the length of the nationwide lockdown and subsequent local lockdown, Hog Roast Omagh's latest clients wanted a very special party in which to announce to their family and friends that they were engaged. The Hog Roast Omagh team thought it was a super adorable idea and jumped straight on board!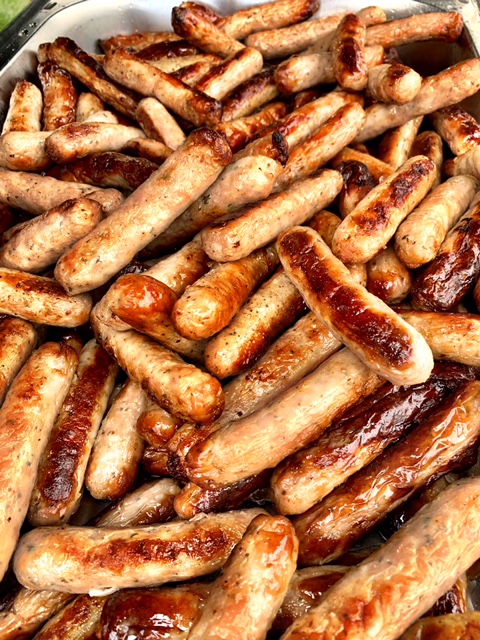 The clients wanted a fairly luxurious buffet for their 20 very best friends and selected family members to enjoy, so they worked closely with the Hog Roast Omagh team to put together a catering package that met their needs and their budget. As part of their package the clients selected to use the team's finest China crockery and cutlery for their event.
The Catering Manager arrived at the Town Hall venue several hours before the 4pm serving time. This allowed plenty of time to be given to the setting up of cooking equipment and the preparation of the dishes. Every platter that made up the buffet was made fresh by hand by the experienced Catering Manager in the hours leading up to the late afternoon serving time.
On offer at the buffet was a whole variety of tasty treats! For example, there was delicious slow spit roasted turkey which was served with fresh cranberries and homemade sage and onion stuffing. There was also grilled vegetable and halloumi skewers, as well as tasty plain grilled vegetable skewers. Another tasty platter included at the buffet was Chef's Choice of 3 freshly prepared salads and a small mountain of delicious warm new potatoes in an herb butter, which is always Hog Roast favourite. Finishing off the buffet was an assortment of soft wraps and rolls and sauces for all the guests to enjoy.
Once the buffet had been enjoyed by the guests the Chef quietly tidied away. All the rubbish made from the event was taken off site by the team and later disposed of safely and responsibly.
The party was a beautiful event and the team felt privilege to be part of such a sweet celebration.