Hog Roast Sligo recently catered Tanya's private party, where she had invited close friends and family to celebrate her recent promotion. We are often asked to cater all kinds of parties and events, including weddings, corporate functions, school fetes, birthdays, anniversaries and christenings. A hog or spit roast really is suitable for any kind of celebration or commemoration, regardless of the number of guests you invite or the location, and for Tanya and her twelve guests, our experienced and professional Hog Roast Sligo chef could easily cater this party by himself.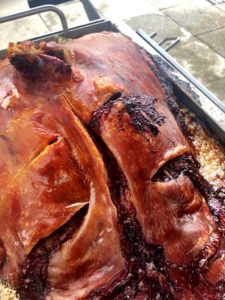 When Tanya called us to book, she told us she had been recommended by friends who had loved our pigs in buns (which you may know as hog roast rolls), and she decided she wanted to try them for herself and treat her guests too. We are often recommended by happy clients and we have long-term customers who return again and again, as they know we always deliver when it comes to fresh, tasty, homemade food and top-notch service.
It came round to Tanya's party yesterday, and our Hog Roast Sligo chef headed to the venue – her friend's large back garden. After setting up our gazebo and serving table, our chef prepared the high-quality, locally-sourced meat by scoring it all over in diagonal shapes, massaging in lots of water to keep it moist and then smothering in plenty of salt, which turns the skin into crispy crackling. Once done, it was time to set the hog roasting machine temperature to low, and set the pig cooking for several hours. You can't rush a hog roast and it needs to cook low and slow to ensure it's cooked through and through, inside and out.
After keeping a watchful eye on the cooking pig for hours, our chef needed to prepare the pigs in buns ingredients and got to work making the sage and onion stuffing, dishing up our homemade apple sauce and slicing the floury bread rolls, which were placed next to a variety of condiments which often make our amazing pigs in buns just perfect. After the meat had a short rest, our chef began to carve and Tanya and her guests were ready for a slice of heaven or two.