A number of our team were particularly excited this week, as they were contacted by a local 'petrolhead' named Jeremy (no, not Jeremy Clarkson.) Jeremy had organised a classic sports car showcase, in which the owners of classic sports cars could enter their vehicle, to be judged on appearance and condition in comparison to other vehicles of the same make and design. The idea was to host a friendly competition, and give people who don't own a classic sports car, the chance to come and marvel at their beauty.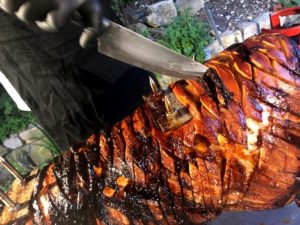 The team from Hog Roast Letterkenny spoke with Jeremy about the particulars of his event. The competition was to be held in a large open field in the country side, he wanted us to provide our glorious Pigs in Buns to everyone who had come along to attend. With over 1,000 guests expected, and with our chef and one of our catering assistants being massive car fans themselves, the team agreed to attend.
It was an all-day event and there were already a whole host of pretty sports cars parked and ready to be judged, by the time our team arrived in the early hours of the morning. The chef set to work butchering the hog and placing it on the machine for roasting, as the catering assistants set up a gazebo to protect from any rain. We slow cook all our meats in order to achieve a succulent taste with the crispiest of crackling and we always arrived nice and early to allow time for our processes. Once again our efforts were not in vein as our pigs in buns went down a storm and we was rushed off our feet with the demands for our pig rolls!
We served our infamous pigs in buns on high quality disposable plates with napkins so they could eat with their hands and do so easily on the move. There was a chance or two for our team from Hog Roast Letterkenny to have a look around at some of the stunning cars that were on display, including an original Jaguar E-type. At the end of the day, the team tidied away their mess discreetly and disposed of any waste off site.