This October, Sophie and Mason received some wonderful news as they were told the gender of the baby they are expecting to have early next year. For months they had been waiting to find out and they wanted to share the wonderful news with their close friends and family and decided to throw a mini gender reveal party to tell everyone. However, Mason's cooking skills were not up to the challenge of producing a buffet for their guests and Sophie didn't want the stress of cooking during her pregnancy.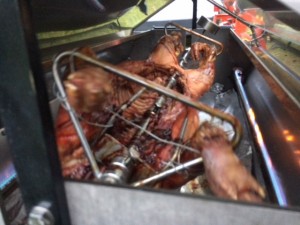 After previously hiring the Hog Roast Limavady team for Sophie's birthday, they knew they were the perfect choice for their party. The team arrived at the couple's house before the party and set up in their garden. The couple had ordered one giant white balloon filled with the colour that would indicate which gender Sophie and Mason's baby would be. They displayed it on the decking overlooking the garden as the Hog Roast Limavady team began to cook the hog roast, filling the garden with the wonderful, rustic scent of spices.
The guests passed around bottles of champagne as the Hog Roast Limavady team brought together the fantastic meat for the buffet. They put the finishing touches on the buffet and served it up to the Sophie, Mason and their guests. Everyone thoroughly enjoyed the food and they all went back for more. Once the guests had polished off the hog roast, they ascended to the decking and got ready to reveal the gender to their gathered guests. The couple popped the balloon to release a shower of blue confetti as their guests cheered.
Yet, Sophie and Mason had one last surprise for their friends and family. Mason dashed inside and grabbed a huge cake which he presented to his guests. Written across the top of the cake was the name the couple had chosen for their baby – 'Archie'. Their guests were delighted with the choice. However, the brilliant party would not have been complete with the Hog Roast Limavady team who turned a small celebration into a great party with fantastic food.