Whatever size your company may be, there is probably going to come a day when you need to host a formal corporate dinner. This can be to celebrate your successes, to discuss future endeavours or simply to socialise with your team. Here at Hog Roast Arney, we offer a variety of packages for formal business meals, with a wide range of dishes to choose from.
We start the evening off with canapes as your guests arrive. This is the perfect way to start the night and immediately shows your guests the level of luxury they can expect from the rest of the night. The canapes will be served by Hog Roast Arney's waiting staff, and there are a variety of options to choose from.
Once your guests are seated, we then serve the starters. Our delicious starter options include homemade soup, smoked salmon and parma ham, to name a few. Your starters will be served tableside, and any crockery will be cleared away afterwards to make room for the main course.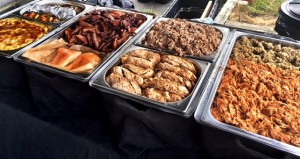 The main course is the star of the show and we have a dish to please everyone. As the name Hog Roast Arney implies, we do offer succulent, slow roasted pork- but we also offer much more than this! Our other main course dishes include turkey, chicken and lamb, with your choice of salad and sides. The main course is served buffet style to your guests, accompanied by a selection of fresh rolls and homemade sauces. We also have vegetarian options available upon request.
The perfect end to the night is a selection of desserts served tableside, with options include fruit salad, cheesecake and profiteroles. This is then followed by tea, coffee and mints.
Once our catering comes to an end, our team begin to clear away any crockery, rubbish and equipment, leaving the venue in exactly the same way we found it. Have you got a corporate dinner on the horizon? If so, why not get in touch with our team today to find out what Hog Roast Arney can offer you!