Hog Roast Mountjoy would like to thank all the teachers that have had the challenge of sorting out remote learning, tackling internet connections and juggling the children's needs at home with the children's needs at school. You have done an amazing job and deserve a treat!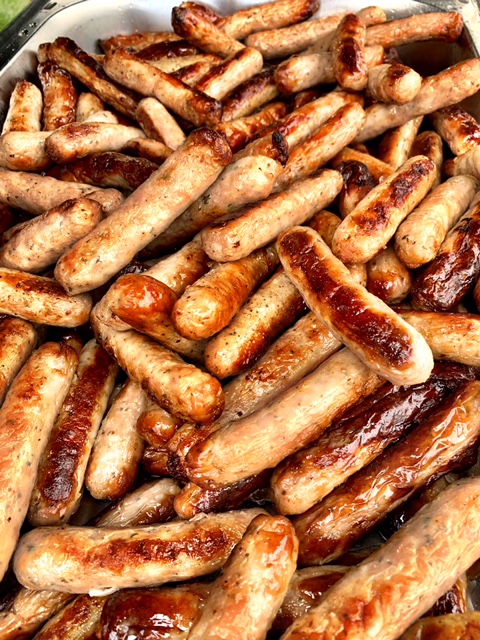 Hog Roast Mountjoy would like to encourage headmasters to treat their staff to a special treat as thank you for their perseverance through these crazy times, their patience with both the children and technology and for putting their lives on the line for education and the countries children.
Please take a look at the menu's we can provide for an after school dinner or lunchtime meal. We can set up two hours before your required serve, serve everyone in an hour and be out of your way half an hour after that. Hog Roast Mountjoy will ensure all the appropriate safety precautions when on site so that your staff are safe such as wearing a face-mask, gloves, social distancing and sanitising stations.
A popular menu with schools in the past has been Hog Roast Mountjoy's party menu 3. This delightful menu entails a whole roasted pig, stuffing and crackling served in a soft roll of your choice; whether that is a soft white, cheesy or wholemeal roll, or even a tortilla wrap! A section of sauces will also be available to choose from to accompany the filling, popular choices are the traditional apple sauce or sweet chilli. Alongside the deliciously tasty roll, a choice of three fresh salads are available, the go to options are green salad, homemade coleslaw and cherry tomato and buffalo mozzarella salad. Some like to top their tender pork with coleslaw rather than the stuffing and sauces. Finally, there will be a hot potato option. Most opt for either new potatoes smothered in herbed-butter or chips, with a crisp outside and fluffy inside. This wonderfully tasty menu is served on lovely biodegradable bamboo plates with bamboo cutlery.
There are many other menu's available for you to browse through, any of them would be a fantastic choice to praise the teachers and staff in your school. Why not book for the end of March to celebrate the light at the end of the tunnel as schools go back to normal?