At Hog Roast Ballycastle we are of course no strangers to the Christmas dinner. We are roast caterers for events all year round, and when it comes to this time of year we switch things up with our very own festive menu for Christmas events. We are able to produce an incredible Christmas dinner for guests, complete with huge selections of everyone's favourite xmas faves, but we are a professional caterer with access to state-of-the-art culinary equipment. For us, with the help of our versatile mobile roasting machines the Christmas dinner is fairly straightforward. You, however, most likely do not have access to such things at home, so instead you'll need to think about how best to manage your roast.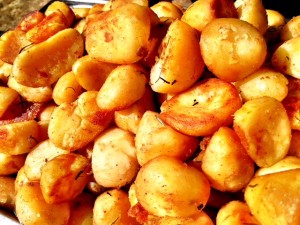 Hog Roast Ballycastle can help with a few tips. It is easy to say but the first one is obviously time. As a roast caterer we know that time really is the name of the game when it comes to achieving a good roast. If you simply blitz your meat to get it cooked as quickly as possible then you are more likely to come out with a dry roast, and no one wants that. Sacrificing a bit of time on your roast to save oven space isn't going to help.
So instead, manage that time. It may mean starting some foods much earlier and then quickly finishing them off with a shove in the oven shortly before serving. You may be able to get your roast potatoes and veg done that way, or pigs in blankets to make more room and time for the big stuff.
Of course failing any of that you could always just rent our own mobile roasting machines which will give you all the space you need. Hog Roast Ballycastle can set you up with a machine and give you training to use it, which really have your Christmas dinner coming out at its very best! Our machines are capable of cooking multiple foods at once, meaning you could have a turkey roast going along with up to 100 roast potatoes as an example. No time needed to shuffle around foods and instead just more time making a perfect dinner!