Our dedicated Hog Roast Eglish experts love to ensure that all of our customers and their guests can enjoy our food and that's by providing plenty of choice and variety, with both alternatives and additional options as well as our signature food. If our name made you think that we only make hog roasts, take a look at our extensive menus to see that we offer so much more, with all kinds of delicious homemade dishes that cater for varying personal tastes as well as bigger appetites and special diets.
When you book with Hog Roast Eglish, regardless of the type of party or event that you need catering or the formality of the occasion, we attend to your every need, helping you to design your own dream menu if required; though if you prefer, you can do so yourself by mixing and matching items between our menus. You may fancy a sumptuous hog roast or spit-roasted main course and nothing else but you can add a side or two or have several courses – it's all up to you!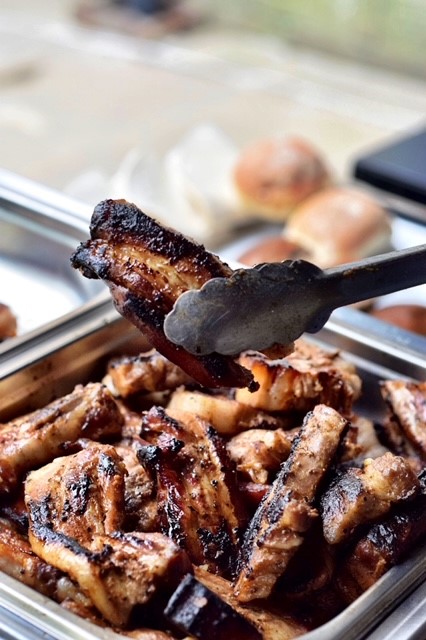 Perhaps one of our special standalone menus will be just the ticket, like our Southern Slow Roast, Barbecue, Loaded Fries or Alfresco, each of which will wow your guests no end with something that little bit different. Our tasty Southern Slow Roast features your choice of three marinated meats and four hot and cold sides, while our yummy Barbecue has four meats, salad, coleslaw and chips or sweet potato fries on offer. Our scrumptious Loaded Fries may be the best choice for you instead, with one course of fries loaded with beef or pork, slaw, cheese and jalapenos, and our Alfresco has Italian-style platters of meats, cheeses and breads, followed by a hog roast main and then dessert.
Whatever you're planning and whatever kind of food you're thinking of for your next special occasion, Hog Roast Eglish will do you proud. We can even make lovely handmade canapés to welcome your guests to your party or dishes for vegans vegetarians and various food intolerances and allergies. Call us today and we'll let you know how!